How a Team USA race mechanic ended up leading the service department at a bicycle shop in Lancaster, Pennsylvania.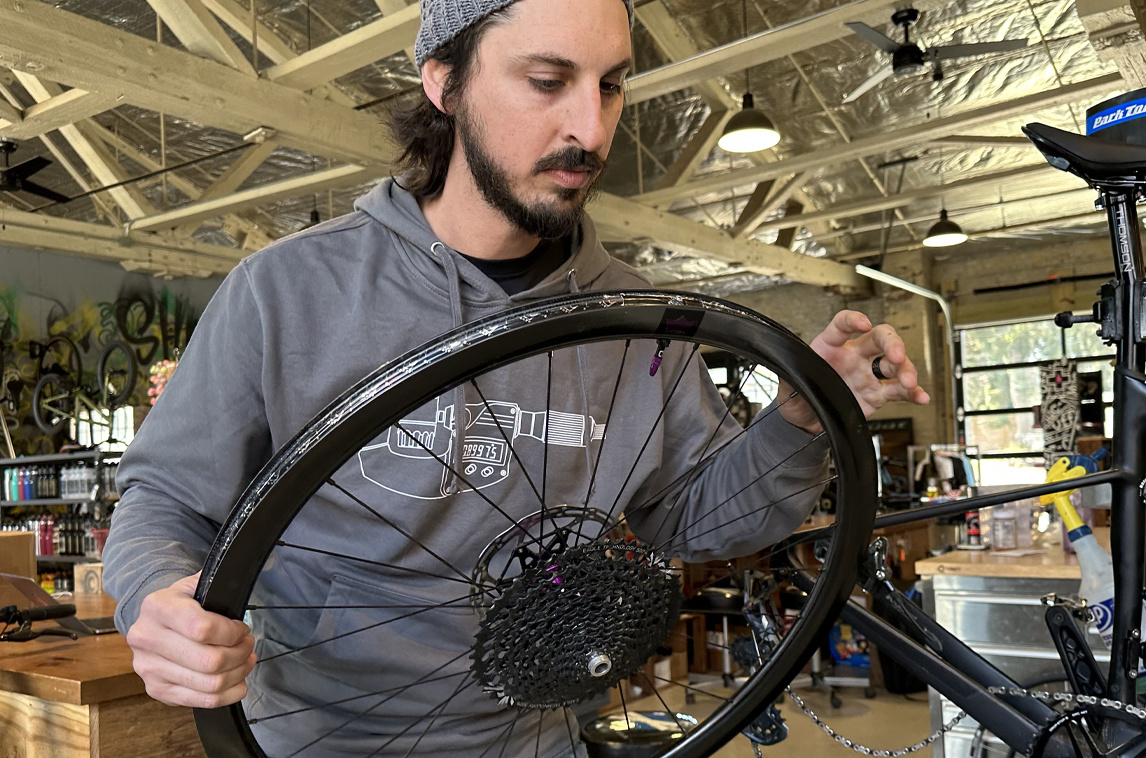 LANCASTER, Pa. -  FOR IMMEDIATE RELEASE
Brad Copeland, the new Service Director at Hush Money Bikes in Lancaster, Pa., is a celebrity bicycle mechanic who has led multiple US riders to world championships and is followed by over 69,000 fans on Instagram.

And now this two-time Team USA Olympic mechanic is available to work on your bike.

Brad may be the biggest hometown hero you've never heard of.

When asked why so many people follow him on Instagram and who they are, the Wyomissing native responds with a casual shrug, "Haha. I have no idea. I guess I've been the mechanic behind some major victories."

That's putting it mildly. For eight years, Brad was the personal mechanic for US professional mountain biker and world champion Kate Courtney, supporting her at World Cup competitions and the 2020 Olympics.

Brad was the only mechanic to work on Kate's bike as she earned the career-defining titles of Elite XCO World Champion in 2018 and Elite XCO World Cup Overall Champion in 2019.

This January, after nearly a decade of following Kate and other elite riders around the world to cross country, enduro, cyclocross, and triathlon competitions, Brad left California and a position with the Scott-SRAM mountain bike racing team to become the Service Director at Hush Money Bikes.

"In the shop or at the track, my goal is to exceed people's expectations of what their bike can feel like and how it can perform," says Copeland. "I like to make bikes better than new. More thoughtfully executed. More stylish.

"If we can deliver a superior service experience at Hush Money Bikes, odds are customers will ride more, enjoy riding more, and come back to see us again. That's my goal."

The loyal customers at Hush Money Bikes are not the only thing drawing Brad to Lancaster. Brad and his wife Sarah are ready to settle down and be closer to her family in town. Brad is also a fan of the road, gravel, and mountain riding opportunities in Central Pennsylvania.

"Lancaster has some of the most dynamic and interesting road riding on earth," says Brad, "It's truly unbelievable."

This is not Brad's first time living in the Red Rose City.

Raised in Wyomissing, Brad bought his first bicycle at Martin's bike shop in Ephrata. Shortly thereafter, he moved to North Carolina where he started racing mountain bikes at age 11, began his career as a mechanic, and eventually met Sarah at the University of North Carolina.

Copeland had a brief encounter with the Lancaster cycling scene in 2013 when he and Sarah moved to Lancaster and Brad co-founded The Common Wheel nonprofit bicycle shop with current Hush Money Bikes co-owner Chris Caldwell.

In 2014, Brad followed Sarah to California. He arrived without a job but was soon working for the bicycle brand Specialized as an in-house mechanic, preparing bikes for demos, trade shows, and, occasionally, professional racers.

Word of Brad's race-ready skills quickly spread and he began working with rising mountain bike star Kate Courtney in 2015. Brad and Kate switched from Specialized Factory Racing to the Scott-SRAM team in 2019 and raced on Scott bicycles in the 2020 Olympics and multiple World Cup competitions.
"As a race mechanic you have to be efficient, precise, and on time," says Copeland. "Those are definitely skills that can improve general operational efficiency in a shop setting."

Brad is the sixth full-time employee to join the team at Hush Money Bikes which was founded in 2020. As Service Director, Brad will oversee all activities involving a wrench and/or a ping pong paddle. His Golden Retriever Betty is in charge of greeting customers and barking at delivery persons.

To meet Brad and Betty in person and schedule your bike for service at Hush Money Bikes, stop by 414 N Mary Street in Lancaster or give the shop a call at 717-723-8334.

Visiting the shop may also afford you the opportunity to catch a glimpse of some of the many iconic bikes in Brad's personal collection, including a rare 2010 Cervelo R5Ca road race bike and multiple fully restored XC mountain bikes from the 90s.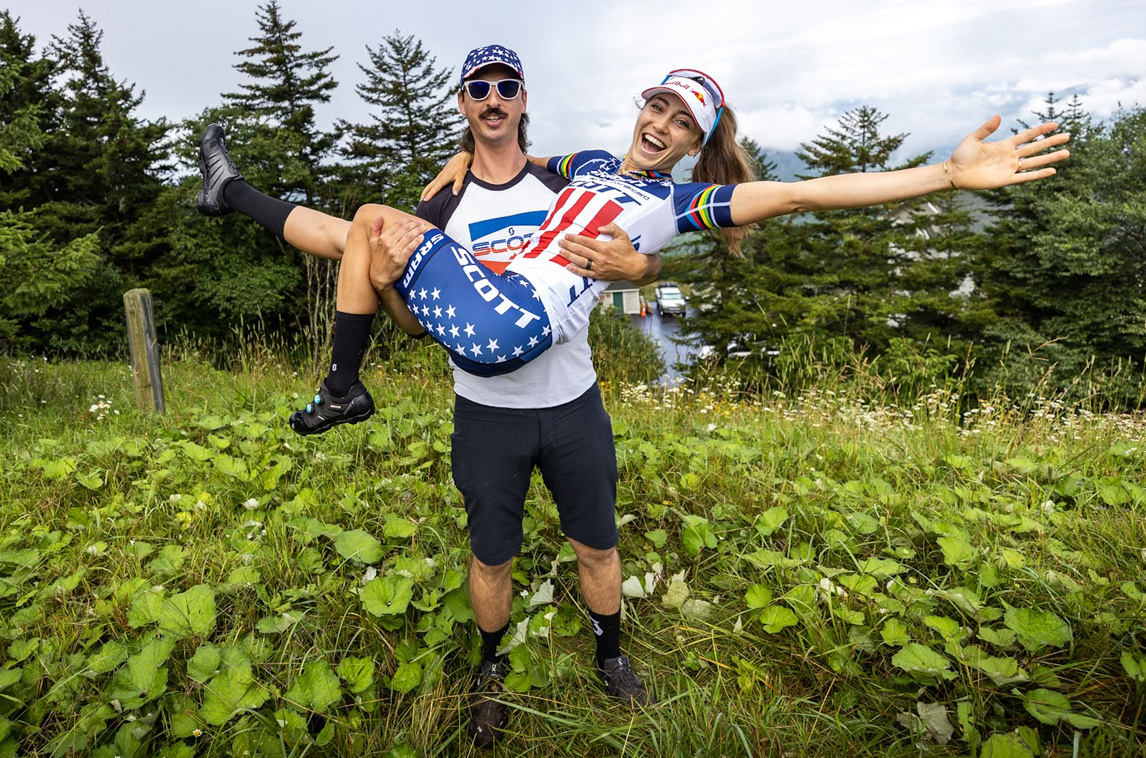 Hush Money Bikes Service Director Brad Copeland with professional mountain bike racer Kate Courtney at 2022 UCI Mountain Bike World Cup in West Virginia. Photo Credit: Will Nelson
About Hush Money Bikes
Hush Money Bikes is a destination bike shop in Lancaster, PA that was founded in 2020 by Nathan Baker, Chris Caldwell, and Ted Houser. Hush Money Bikes builds community through personalized bicycle sales and service. For media inquiries contact [email protected]